There is nothing to display at this time
Scheduled Catalogue Maintenance - May 29
The catalogue may be unavailable on Sunday May 29 between 6-10am during the monthly maintenance window. We apologize for the inconvenience and thank you for your patience.
Publish Date:
Thursday, May 26, 2022 - 4:30pm
Rymal Road East Construction near Turner Park Branch
Starting Monday May 9, construction starts on Rymal Road East between Massena Drive and Republic Avenue near the Turner Park Branch. The lights will be deactivated and the turning lanes will be closed.
Please use eastbound lanes only to plan your branch visit.
Thank you for your patience.
Publish Date:
Thursday, May 26, 2022 - 9:30am
Carlisle Branch closing
The Carlisle Branch (1496 Centre Rd.,) closes Saturday May 28 at 5pm. The exterior drop box is available until June 1st. The new branch at 277 Carlisle Rd., is expected to open in mid-June 2022.
Publish Date:
Wednesday, May 25, 2022 - 1:15pm
Junior Librarian-in-eResidence

That's a wrap! Thanks to Ainara Alleyne, our first Junior Librarian in Residence for her time, energy and passion. Stay tuned for updates on how you can apply to be our next Junior Librarian in Residence. 
---
Hamilton Public Library welcomes our first Junior Librarian-in-eResidence, Ainara Alleyne. She is a Grade 6 student who loves to read and recommend books that celebrate diversity and culture through characters and themes. Ainara's residency runs January 2021 to December 2021.
Looking for school age reader recommendations? Complete the Which Book Next online form to receive Librarian approved print and/or digital materials. With over 67 hand-selected fiction and non-fiction titles, there's a variety of books or eBooks for children and teens.
The achievements of Viola Desmond — the woman who appears on our $10 — is cause for celebration. Ainara explains why in this video. Learn more about Viola in this Discover at Home activity page.

Watch CBC's The National recent interview with the avid reader, at HPL's Turner Park Branch.
Ainara discusses how her love of reading has evolved and shaped her reading choices.
Learn more about Ainara in a recent CBC News article.
2021 Just One Wish Kindness Award Recipient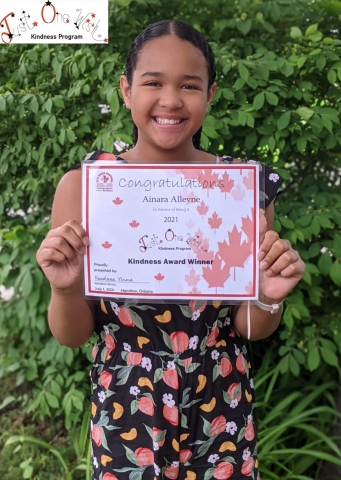 Congratulations to our Junior Librarian-in-eResidence, Ainara, who received a 2021 Just One Wish Kindness Award. The award recognizes Hamilton-Wentworth District School Board students age 4-18 who show kindness to themselves, peers, and the community.
Ainara, 12, is notable for creating Ainara's Bookshelf on Instagram. Her mission: to find, read, recommend and celebrate books featuring diverse characters. Since January she has been doing the same as HPL's Junior Librarian-in-eResidence.