There is nothing to display at this time
Valley Park Branch Public Art Mural

About the Winning Mural: Artist Vivian Rosas' mural meets the competition's goals to: celebrate the local geographic environment and HPL's commitment to sustainability.
The mural is vibrant, full of local nature and has a feeling of discovery. It represents diverse members of the community, physical activity and promotes a healthy relationship with nature. It exemplifies a commitment to sustainability, welcomes all members of the community and has a strong visual impact from a distance and up close.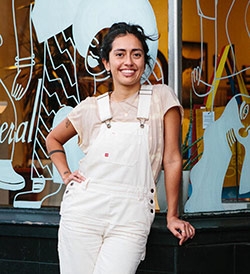 About Artist Vivian Rosas: Vivian Rosas is a Toronto-based multidisciplinary illustrator, dancer, and muralist. Her work explores empowerment and diversity.
"I hope my mural will greet the community with a positive and uplifting energy as they arrive at the new Valley Park Branch and that it will continue to inspire the exploration of its vibrant natural surroundings."
Details:
28 artists submissions
Six contenders on the shortlist
338 votes cast by public Aug 25-Sep 8
Jury Members
Guiliana Casimirri, Hamilton-Wentworth Green Venture
Tracey-Mae Chambers, Artist
Penny Gumbert, Local resident
Drew Hauser, Director, mcCallumSather
Shelly Hill, Urban Indigenous Strategy Hamilton
Kathy Lacasse, Heritage Green Community Trust
Jasmine Lazdins, Art Gallery of Hamilton
Adam McCaughan, Architect, mcCallumSather
Ania Van Minnen, Hamilton Public Library, Manager of Valley Park
Nick Van Velzen, Hamilton Public Library Board of Directors, Chair
Brad Walker, City of Hamilton, Manager of District Operations
Advisors to the Jury:
Lorie Lee, Senior Leadership Support Manager
Nancy McPhee, Hamilton Public Library, Community Librarian
Non-voting attendees:
Dawna Wark, Director of Public Services – Branches
Paul Takala, Chief Librarian/ CEO
Read the Valley Park Public Art Jury Report.
For general inquiries:
Email: llee@hpl.ca
Frequently Asked Questions