There is nothing to display at this time
Scheduled Catalogue Maintenance - May 29
The catalogue may be unavailable on Sunday May 29 between 6-10am during the monthly maintenance window. We apologize for the inconvenience and thank you for your patience.
Publish Date:
Thursday, May 26, 2022 - 4:30pm
Rymal Road East Construction near Turner Park Branch
Starting Monday May 9, construction starts on Rymal Road East between Massena Drive and Republic Avenue near the Turner Park Branch. The lights will be deactivated and the turning lanes will be closed.
Please use eastbound lanes only to plan your branch visit.
Thank you for your patience.
Publish Date:
Thursday, May 26, 2022 - 9:30am
Carlisle Branch closing
The Carlisle Branch (1496 Centre Rd.,) closes Saturday May 28 at 5pm. The exterior drop box is available until June 1st. The new branch at 277 Carlisle Rd., is expected to open in mid-June 2022.
Publish Date:
Wednesday, May 25, 2022 - 1:15pm
Writer-in-Residence: Pasha Malla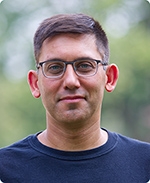 May 2022 - Thank you to Pasha Malla, the 2021-22 Mabel Pugh Taylor Writer-in-Residence. Pasha provided guidance and advice to many aspiring writers and authors during his year-long term, which ended in April 2022.
In partnership with McMaster University, Pasha hosted several workshops including Grant Writing with author Fiona King Foster, and, the role of Literary Agents in Publishing with Martha Magor Webb.
"I can only hope that participants found our conversations useful, focused and motivating, and that they returned to their writing feeling a bit better equipped — and maybe even a little more confident.", said Pasha, reflecting on his experience.
Pasha writes novels, poetry, scripts and articles for several publications. He is author of several books: Kill the Mall, (2020), Fugue States (2018), Erratic Fire, Erratic Passion: The Poetry of Sportstalk (2015), People Park (2012), All Our Grandfathers are Ghosts (2008) and The Withdrawal Method (2008). You can borrow Pasha's books through HPL's catalogue and OverDrive.
His debut book, The Withdrawal Method, a collection of short stories, won the Danuta Gleed Literary Award and Trillium Book Prize. One of the short stories in this collection, Filmsong, won the Arthur Ellis Award. Pasha has also won several National Magazine awards.
The Mabel Pugh Writer-in-Residence program is a partnership with McMaster University's Department of English and Cultural Studies, McMaster University Library and Hamilton Public Library.
The 2022-23 Writer in Residence is announced in Fall 2022